March 6, 2022
How to write your company's sustainability policy
Starting with a sustainability policy, you can ensure that your company creates a structured, accountable programme to mitigate future environmental and social impacts, whilst also becoming more competitive in the marketplace.
By Lindsey Hall
Writing your company's sustainability policy is the first step in the journey towards making your business more environmentally and socially conscious. Consider it your game plan.
In this article, we've summarised the key points to consider when you're writing your sustainability policy. If you don't have the time to write one yourself, let us create a tailor-made policy for your business.
What's the function of a sustainability policy?
Before your company starts on its project to become more sustainable, it's important to set out the objectives you want to achieve and who within the company has overall responsibility for ensuring that it is a success. The sustainability policy acts as a roadmap to achieving this, laying out your company's intentions and the reasons why you are going to undertake this work – what are the key business drivers?
By starting with a sustainability policy, you can ensure that your company creates a structured, accountable sustainability programme, which will help you to:
Mitigate environmental, social and economic concerns
Fulfil your company's legal obligations
Become more competitive in the marketplace
Enable you to attract and retain the best staff
Financially strengthen your business
Improve your reputation with your stakeholders
Increase your supply chain efficiency
Who is the sustainability policy for?
The sustainability policy is a vital document for both internal and external use.
Internally, the sustainability policy will be used to communicate your objectives with your current and future employees and to ensure their support. It also acts as the framework of your sustainability project, being referred back to in order to clarify why as a business you are making the changes that you are.
Externally, the sustainability policy will communicate your goals to your stakeholders, whether that's your investors, board of directors, shareholders or clients. It can also be provided to suppliers to show the standards that you expect of them.
What's included in a sustainability policy?
The policy generally follows a standard format:
Mission statement and core values
Summary of the key environmental and social impacts of your business
Explanation of how the business will address these impacts
The aims of your business for the next year
Reference to a desire for continuous change; how you will take the programme forward in coming years
Commitment from the most senior person in the company
Policy and renewal date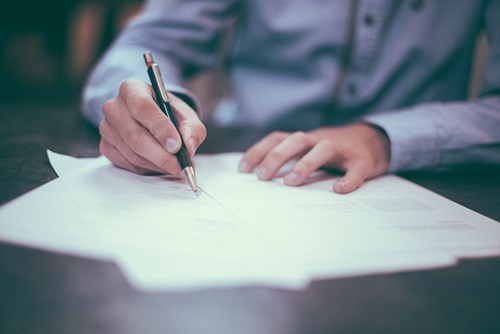 Once your sustainability policy has been signed by the head of your company, it's time to get it out there! Put it on your website, in staff rooms and newsletters, in client information packs, shareholder reports, sales documents and staff training packs.
The next step to sustainability
Now that you have your sustainability policy, you can use this as a reference document to draw up the action plan that will help you to achieve the goals you have identified.
How we can help
Green Steps are experts in sustainability. Wherever you are in the world, we can help you to get your sustainability programme off on the right foot, or to get it back on track if it isn't going as planned. Book a free Skype consultation so that we can understand your company's unique requirements.
We can help you manage the entire process from creating a sustainability policy to prioritising the actions to take forward and ensuring that your targets are met.